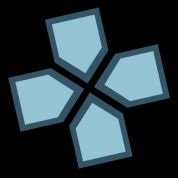 PPSSPP
PPSSPP is the best and only PSP emulator for iOS written in C++. It is capable of running a lot of original games but, depending on the power of your device, not all may run at full speed due to restrictions on non-jailbroken devices.
PPSSPP was originally created by Henrik Rydgård in November 2012; however, iOS builds are mostly managed by talented developer, Karen Tsai (aka @angelxwind) and a large group of contributors that submit issue reports and fixes. Several versions of PPSSPP can be played on numerous devices such as Android, Windows, Mac, Linux and Blackberry 10. The iOS version can be found on both Jailbreak and non-Jailbreak devices.
PPSSPP supports all versions of iPad, iPhone, iPod touch running iOS 5 and above; this includes iPhone 5 and other retina-enabled devices. The emulator does not require bios to play, PPSSPP is - in many ways - a "HLE" emulator. PPSSPP requires ROM images, specifically .ISO or .CSO files, to play. No ROMs are included in this copy of the emulator. If you own any games, add them through iTunes Sharing or other programs like 'iExplorer.' Keep in mind these files are extremely big, sometimes taking several gigs in size.
PPSSPP is built to use JIT decompilers (dynarecs) which can only be accessed on a jailbroken device due to the codesigining requirement. Therefore, most games will run very slow on non-jailbroken devices; however, there are a few older PSP games that will run just fine and up to speed depending on your iOS device.
PSP is a trademark of Sony, Inc.
What's New
PPSSPP 1.9.0 fixes more bugs and performance issues. 1.9.3 fixes a few additional bugs on Android primarily.
A list of the major changes:
Flicker fixed in God of War that appeared with newer drivers for Mali GPUs (#12224)
Improve performance of God of War on Vulkan (#12242), implement built-in GPU profiler (#12262, #12266)
Vertex range culling fixed on ARM Mali (#12227)
Started to improve VFPU precision, resulting so far in a fix for the long standing Tekken 6 leg shaking problem (#12217)
Fixed a VFPU precision snafu on ARM64, fixing disappearing officers in Warriors Orochi (#11299) and some problems in Tomb Raider (#11179).
Vulkan is the default again on Android versions newer than Pie
Fix various homebrew store issues
GPU pause signal handling fixed, fixing some hangs in Bleach and Armored Core games (#12160)
Audio sample rate conversion handling fixes (#12147)
Some Vulkan optimizations (pre-rotation (#12216), perf fix in Metal Gear Acid, etc)
Multiple fixes for the UWP build (#12036, others)
MP3 playback fixes (#12005)
Audio in Motorstorm: Arctic Edge fixed by returning errors correctly (#12121)
Audio glitches in Final Fantasy Tactics fixed (#9956)
Camera display in Invizimals fixed (#12278, #8521)
Added hotkeys for texture dump and replace (#11938)
Added Visual Studio 2019 support. Windows XP is no longer supported (#11995, others)
Fixes for video capture (#12069)
Added a separate sound volume for alternative speed (#12124)
Improved mouse control (Windows only) (#12173, #12176)
Support for installing texture packs and ISOs from zips (#12175)
Right analog support for touch controls (only used by patched games and some HD remasters) (#12182)
Android: Fix OpenSL initialization, possibly helps audio crackle a little. (#12333).
Fix graphics on Amazon Fire TV Stick 4K
Fixed strange vehicle behavior in MGS:PW (somehow) (#12342)
Ported to the Nintendo Switch by m4xw! Builds available on m4xw's Patreon.