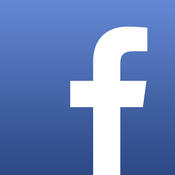 Facebook
-- Tweaked version --

Facebook++ by Unlimapps

> In App Messenger Enhancements
> Use In App Messenger - Facebook++ no longer forces you to use/download their separate messenger app to chat. Allows you to get chat heads back.

Feed Enhancements
> Copy videos to Clipboard (to paste/send later) or Save/Download to albums
> Recent Feed allows you to see most recent posts instead of popular.
Security Settings
> Set Passcode - Enables a 4 digit code to access Facebook on startup. Also allows you to enable Touch ID to secure Facebook.

Facebook Enhancements
> Enhanced Sharing of web articles - Share with FB++ is now an option when reading articles that you clicked on in Facebook that include enhanced sharing features.
> Hide Facebook App Tab Labels - Hides the top search and 'Status', 'Photo' and 'Check In' tabs. Gets overridden buy 'Full Screen Mode'
> Disable Video Auto Play - By default, Facebook will play videos. This option allows you to turn off the autoplay saving you data and bandwidth.
> Full Screen Mode - Hides everything while scrolling through the feed. Overrides the 'Hide Facebook App Tab Labels'
> Show Video Download Button - You're now able to copy or save videos from your news feed. This shows the button on the bottom right of each video.
> Employee Settings - This enables a TON of additional very technical options. When enabled, it shows the 'Internal Settings' options at the very bottom of the Facebook settings tab.
> Sidebar Navigator - Re-enables the classic sidebar options navigator that Facebook took out.
What's New
-Updated to Facebook++ v196 T1.6r-38
Note: its still have some bugs
Screenshots