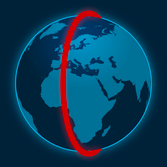 Meridian - iOS 10.x Jailbreak for 64-Bit
A Jailbreak for iOS 10.x, supporting all 64-bit devices.
**CYDIA included on v0.9**
Supported Devices
Meridian supports ALL 64-bit devices, running any iOS version between 10.0 and 10.3.3.
What's New
Switched to ldrestart instead of respring after jailbreaking - this will fix tweaks such as NO PLS RECOVERY (although expect longer respring times after initially jailbreaking).
Improved the pspawn proc blacklist.
Fixed the respring button not working for some users (oops).
Fixed jailbreakd failing to launch on older 10.x kernels (10.0->10.1.x ish)
Code tidy and improvements
Fixed random freezes (still some minor issues to go, but should be much more stable now).