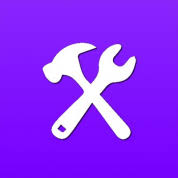 Torngat 2.1.1 Vfs-Version
App made by 1GamerDev that allows you to:
- Change resolution (NOT RECOMMENDED)
- Customise Control centre (maybe doesn't work is big screens)
- Prevent revokes
- Block software updates
- Change icons mask
- Change bootlogo
And more!
For the Saver Version where you CANT fuck up your device pls visit this : https://appdb.to/view.php?trackid=1900000392&type=cydia&store=us
Follow the Developer on Twitter for news : https://twitter.com/1GamerDev
Follow me on Twitter for the newest cydia app updates on appdb : https://twitter.com/Fapperino3
What's New
This update includes bug fixes.
Also added our anti revoke lines.
Please report any bugs you may find with this release by either contacting me on Twitter or by creating an issue. Remember that "it reboots my device" is NOT an issue.