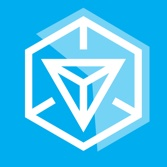 Ingress
Ingress verandert de echte wereld in een virtueel landschap voor een game op wereldschaal vol mysterie, intriges en concurrentiestrijd.
Onze toekomst staat op het spel en jij moet een kant kiezen.
Een team wetenschappers in Europa heeft een mysterieuze kracht ontdekt. De oorsprong en het doel van deze kracht is onbekend, maar sommige wetenschappers denken dat de kracht van invloed is op onze manier van denken. Als we deze kracht niet leren beheersen, kan deze ons misschien gaan beheersen.
De 'Verhevenen' willen de kracht omarmen die deze energie ons kan brengen. Het 'Verzet' verdedigt en beschermt met moeite het kleine beetje dat nog over is van de mensheid.
Installeer Ingress en transformeer je wereld.
De wereld is de game
Beweeg je door de echte wereld met je iOS-apparaat en de Ingress-app om bronnen van deze mysterieuze energie te ontdekken en gebruiken. Verzamel voorwerpen om te gebruiken tijdens je tocht, zet technologie in om grondgebied te veroveren en wordt bondgenoot van andere spelers om de Verhevenen of het Verzet te helpen in hun strijd.
Strategie
De strijd wordt wereldwijd gevoerd. Houd de voortgang van andere spelers van over de hele wereld bij, plan je volgende stappen en communiceer met anderen via een informatiekaart.
Vorm allianties
De strijd om de planeet te redden wordt over de gehele wereld gestreden. Groepen mensen die samenwerken, kunnen effectiever zijn dan individuen die alleen opereren. Samenwerking in buurten, steden en landen is noodzakelijk om de ultieme overwinning te behalen.
Continue gebruik van GPS op de achtergrond kan de gebruiksduur van de batterij dramatisch verkorten.
What's New
R-11
-Updated to Official 2.20.3
requireS global++ subscription to use cetain features.
check https://globalplusplus.com/
Screenshots