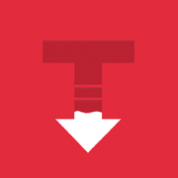 iTorrent
It is an ordinary torrent client for iOS with Files app support. What can this app do: Download in the background Add torrent files from Share menu (Safari and other apps) Add magnet links directly from Safari Store files in Files app (iOS 11+) File sharing directly from app Download torrent by link Download torrent by magnet Send notification on torrent downloaded FTP Server (unstable) Select files to download or not Change UI to dark theme
What's New
What's new:
All core libraries updated to the latest versions
Added launch screen
iOS 13 automatic theme switcher
Huge code refactoring
Tons of bugs fixed.
Known issues:
Torrent files not opening on iOS 13
It happens if ipa file was resigned (i.e. by Impactor), so any app compiled for iOS 13 will not open torrent file correctly.
You can use Chrome, Telegram or any another app which was build for older iOS version, to open files.
Also you can add it by URL or place .torrent file directly into _Config folder using Files app.
Screenshots