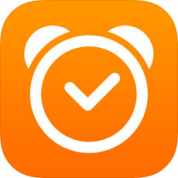 Sleep Cycle ++
Wake up feeling rested with Sleep Cycle. Track your sleep and get analysis that helps you get a good night's sleep.
Start your day feeling energized with our intelligent alarm clock that is designed to gently wake you up while you're in your lightest sleep phase. Plus, you'll get detailed analysis as Sleep Cycle monitors your sleep patterns from the moment your head hits the pillow.
3 reasons you'll love Sleep Cycle:
1. Gently does it - Waking you up while you're in a light sleep is the natural way to wake up.
2. Understand your sleep - Learn about your sleep patterns with detailed analyses.
3. Nothing under your pillow - Simply turn Sleep Cycle on before going to bed, and place your device on your nightstand or close by on the floor.
Understanding your sleep patterns mean you can wake up feeling refreshed and ready to start your day.
Download Sleep Cycle today for the easiest way to get a good night's sleep.
Free features
√ Sleep analysis with Sleep Cycle patented sound technology, or accelerometer
√ Sleep Cycle Apple Watch App integration with silent wake up
√ Detailed sleep statistics and daily sleep graphs
√ Fully integrated with Apple Health, exchanging sleep analysis and heart rate
√ Carefully selected alarm melodies
√ Snooze by shaking or double tapping the phone lightly
√ Customizable wake-up window. From instant (regular alarm clock), up to 90 minutes

Premium features
√ Longterm sleep trends
√ Compare your sleep data to world sleep statistics • Snore trends - view historical snore trends data
√ Weather - see how weather affects your sleep quality
√ Heart rate monitor - measure your heart rate (RHR) every morning using the built in camera in your device
√ Sleep aid - helps you fall asleep easier
√ Sleep notes - see how events such as drinking coffee, stress, working out, or eating late affect your sleep quality
√ Wake up mood - see how Sleep Cycle affects your wake up mood
√ Online backup - lets you secure your sleep data online
√ Export sleep data to Excel for detailed analysis
√ Philips HUE light bulb support - simulate a natural sunrise to give you an even softer wake up

REQUIREMENTS
Ability to charge your phone by the bed.
Ability to place your phone near the bed, such as on a nightstand table or on the floor.
-------------------------
The optional Premium subscription costs $29.99 per year.
It will be charged from your iTunes account after the purchase. You can manage or cancel your auto-renewable subscription by entering the user settings in iTunes after the purchase. The subscription will be auto-renewed 24 hours before the subscription period ends with the same kind of subscription you already bought to the same price. It's not possible to abort the subscription during the time it's active. Terms and Privacy: http://www.sleepcycle.com/terms-of-use.html
Credits: SarahH12099
What's New
-Update app latest version