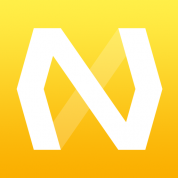 nzbUnity
At home or on the go, nzbUnity makes it easy for you to manage all of your favorites NZB applications from your iOS device
- Compatibility
Works well whether you are on WiFi or Cellular (3G, LTE, EDGE).
- iOS Devices
Fully supports iOS 10 (down to iOS 7) and works on an iPhone (4/4S/5/5C/5S/5SE/6/6+/6s/6s+/7/7+), iPad, and iPod.
- APIKeys
No need to type in your ApiKeys. nzbUnity automatically gets your ApiKeys to your favorite NZB apps as well as your NZB (Newznab) indexers.
- Automatic Refresh
No need to pull down to refresh. nzbUnity automatically refreshes to ensure that you have the latest information.
What's New
(ADD) Lidarr: Lidarr Support.
(ADD) Sonarr: Ability to delete episode files.
(ADD) uTorrent: Ability to change torrent label.
(CHANGE) nzbUnity: App is now AD FREE.
(CHANGE) Auto Night: Temporarily disabled based on reports that it has been causing crashes on start up.
(CHANGE) Sonarr: Updated the episode listing UI to be more dynamic and include the quality of the file (if available)
(CHANGE) Search: When adding or editing a provider, if the protocol (http or https) is detected in the url/host, it will be automatically removed to make adding / editing easier.
(CHANGE) Radarr: Movies that are still monitored but have downloaded the movie in the cutoff profile is no longer marked as Wanted in nzbUnity
(FIXED) All: on Jailbroken devices, artwork would not load on iOS 11.
(FIXED) Sonarr: Episode listing would be out of order if there was no airdate listed, changed to sort by episode number
(FIXED) Sonarr: If application language was not set to English then the artwork would not download.
(FIXED) All: The Barcode Scanner's cancel button would be position slightly off screen on the iPhone X series.