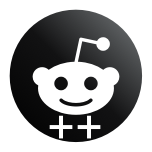 Reddit++
Reddit Tweaked by Adding the "TFDidThatSay" tweak made by Lint and opensourced here.
Added the tweak "Reddit No Ads" by u/kemmis available at his repo
This tweaked version allows the user to view deleted posts retrieved by pushshift.io. and removes Ads.
NOTE!!: Reddit++ isn't affiliated with the developer of "TFDidThatSay" so don't ask him for support regarding Reddit++.
What's New
Cracked IPA Supplied by "martinjt"
Reddit++ 2020.4.0-4:
Added "Reddit No Ads" Tweak.
Reddit++ 2020.4.0-3:
Tweak icon now visible in menu.

Reddit++ 2020.4.0-2:
Now works for all comments not just deleted ones.
Reddit++ 2020.4.0-1:
File Size: ~19MB
Install Size: ~23MB
Screenshots