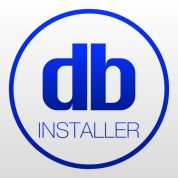 appdb Universal Installer
NOTE: Universal Installer is now deprecated. Use green install buttons from our website instead!
appdb Universal Installer allows you to install any apps directly to your mobile device from anywhere. Just visit link, tap Bookmarks->"Install via appdb" or install via iTunes file sharing.
Non jailbroken devices are supported too with appdb PRO. Read more about appdb PRO.

After you install app, please create bookmarklet in Safari browser by following this tutorial.


Brought to you by:
PowerSDev, creator of LinkStore, LinkTunes and InTube. Freddy, creator of appdb and appaddict.
To request new features and discuss issues please use special appdb forums section.
What's New
1.0.7
- Translation fixes
1.0.6
- app icon changed
- added clear button to status controller
- fixed crashes and loops when device is not linked to appdb
1.0.5
- Fixed bug with local apps popup

1.0.4
- Status controller now shows commands status in real time
- Fixed 'splashboardd' crashes
- Improved local ipa tab and file passing between apps
- Fixed file saving after download
- Added credits to settings panel
- When download finishes, app sends a notification
- Fixed a lot of stuff behind the scene, got better performance
- Hot fixes

1.0.3
- Hot fixes

1.0.2
- Hot fixes

1.0.1
- Added Navigation Bars.
- Improved Local IPA tab and shows the actual path for imported documents.
- Fixed localizations.
- When download finishes, the downloaded .ipa shows in Local IPA tab.
- Added support 'Open In' action for IPA files from other apps.
- Added the ability to cancel a download and uploads.
- Reduced app size
Screenshots